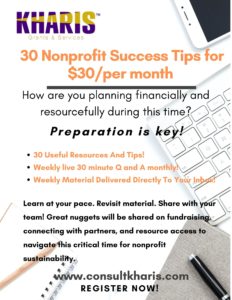 KHARIS understands that your valuable dollars are just that, valuable.  We know that you want to know more about grants, grant-writing, leadership, recruiting board members, attracting volunteers, and more so you can better impact your community and help people build a greater quality of life. KHARIS understands and appreciates your work. More importantly, we understand that you need to lead and learn well, and nonprofit organizations cannot pay (nor should you) thousands of dollars to do so.
No worries! We have a product just for you!
Join our 30 for $30 Program TODAY! Under this program, you will get thirty impactful, insightful,  and resourceful tips delivered right to your inbox. We will research new grant opportunities, nonprofit trends, changing laws, and more so you can continue leading your nonprofit and building better communities. Great nuggets will be shared on community resources for you to consider as you navigate these increasing challenges. We believe that great chaos can still produce great outreach and impact. Information and intentional execution are the keys to maximize this moment for your organization and the people you serve!
We make this promise to you. You will never receive information that KHARIS does not find valuable and relevant for your organization!
For only $30 once per month, you simply click, open, read, learn, and impact your community!
This information is also great to share with your team!
Are you ready to sign up? We believe you are!
Sign up BELOW!
Please select service, date and provider then click on the Find Appointments button.
[/et_pb_column]
Contact
Phone
(501)-404-8942
Email
Address
P.O. Box 16336 Jonesboro, AR 72403
Hours
Monday - Friday, 9am to 4pm