30 for $30 Program For Faith-Based Leaders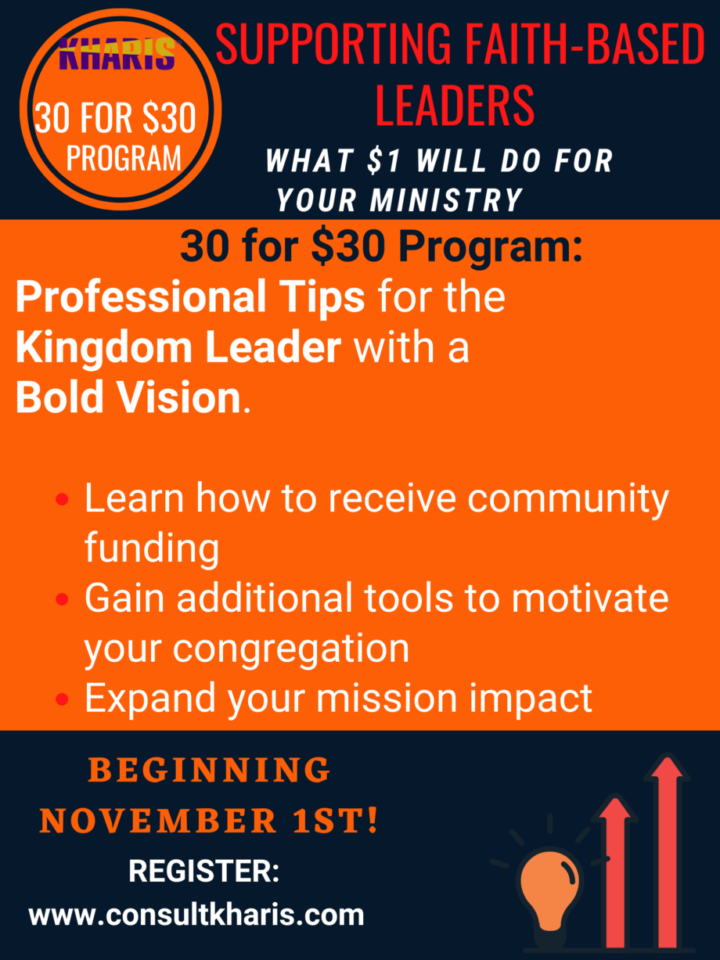 Leadership Solutions for Faith-Based Leaders
God showed us from the beginning of time that good things should be done in a strategic process and with wise counsel. He created this beautiful landscape of the world first.  In Genesis 1:26a (NKJV), Then God said, "Let Us make man in Our image, according to Our likeness;." He indeed could have created the world and mankind all at once, and yet God  teaches us right from the beginning that even He has a grand strategy.
Hello Faith Leaders,
I am so glad you are here on this page.  As a believer of God, I value the endless service you extend to your congregation and the community. 
 The 30 for $30 program is designed to give you  daily professional tips, grounded in scripture, that will assist you in your spiritual mission.  Over the next 30 days, change awaits.
For just $1/day, you will receive a daily biblical strategy to:
Implement creative ways to fundraise via grant and community sponsors for programs

(YES, faith-based entities can apply for grant funding!)

Motivate and encourage members in this challenging time 
Enhance structure and organize within your ministry
Devise strategic principles to expand your mission outreach
and more.
Every leadership principle you receive through The 30 for $30 program is biblically-inspired, practical, and easy to implement.
So if you lead a congregation, small group team, ministry, serve on leadership teams, or simply want to receive valuable leadership tips in a spiritual context that will accelerate your mission, this program is for you.  
Register now to get started on November 1st! 
Blessings,
Shunqetta N. Cunningham, 
CIO (Chief Impact Officer)