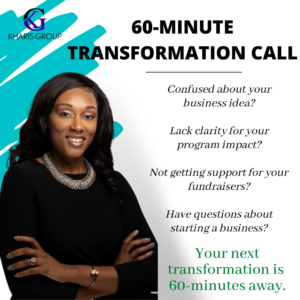 KHARIS is here to guide large organizations and smaller mature nonprofits to not just meet but exceed set goals. Deciding on exactly what you need from a nonprofit consultant will save your organization time and resources in the long-run. We specialize in helping nonprofits, or those looking to start a nonprofit organization, with development, resource advocacy and identification, team dynamics, systems and procedures, and community partnerships. Contact KHARIS to find out more information on consultation and support services.
Let's start with 60-minutes! You are guaranteed to get the answers needed for your next level success!
Simply, click Here for your $150 investment for our live Zoom call.
This call is for leaders that need clarity, someone to put feet to the vision, have funding troubles, need to get the idea off the ground, and even seasoned leaders with questions about board support, program design, and community impact.
We solve problems. Period.
KHARIS is the Leaders' Consultant. Brilliant minds need support, too. 
We are not your average consulting service because you are not the average leader in your nonprofit or business. 
Click HERE to secure your space, and we will set up your consultation  within 24-hours. 
And yes, you can have your team on our Zoom call!