2020 Nonprofit Summit
 A Clear Vision to Lead, Impact,
and Advocate
     Friday, March 6, 2020
ASU

 

Delta Center for Economic Development
8:30AM – 3:00PM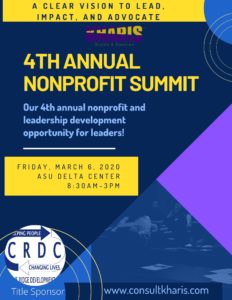 Year four of the only nonprofit summit held in Northeast Arkansas is going to be AMAZING! The more we know, the more we grow. Start here at the 2020 Nonprofit Summit!Get an opportunity to meet grant funders, enter our $1,000 prize nonprofit pitch competition, and get the resources, connections, and tools you need to take your organization and leadership to an all new maximum level.
See What Others Are Saying About Past Conferences!
"It was great to connect with other
leaders."
~Megan Brown, ED
"Congrats to KHARIS Grants for bringing such a relevant and needed training to our community."
~Tiffny Frazier, Community Engager and Strategist
"I have the confidence to push forward after attending."
~Erica Hooks, Nonprofit Start-Up
New This Year!

Nonprofit Video Pitch Contest for $1,000!
We value the work our nonprofits do daily to impact and better their communities.
Here is an awesome opportunity to spotlight that work. In three simple, steps, your organization is on their way to win $1,000.   It is simple!                                     
 1. REGISTER two (2) representatives to attend the Summit.
2. UPLOAD your 60 second pitch video.
3. SHARE and Get as many likes as you can!
Please see the Official Contest Rules
for further details.
Next step is here!
REGISTER TODAY!
Registration: $50
Please select service, date and provider then click on the Find Appointments button.
[/et_pb_column]
Contact
Phone
(501)-404-8942
Email
Address
P.O. Box 16336 Jonesboro, AR 72403
Hours
Monday - Friday, 9am to 4pm